If you're a marketer or business owner, you're probably looking for ways to streamline your operations and increase your revenue. One tool that can help you achieve both of these goals is GoHighLevel. This all-in-one marketing platform is designed to help you manage your customer relationships, automate your marketing processes, and grow your business.
In this Ultimate GoHighLevel Guide, we'll dive deeply into this powerful platform and show you how to get the most out of it. Whether you're just getting started with GoHighLevel or a seasoned pro, you'll find plenty of tips, tricks, and best practices to help you optimize your marketing efforts and boost your bottom line.
This guide covers everything from setting up your account and configuring your settings to advanced strategies for generating leads, nurturing your prospects, and closing more sales. We'll also explore some of the most popular integrations and add-ons that can help you extend the functionality of GoHighLevel and take your marketing to the next level.
Getting Started
If you're new to GoHighLevel, this section will guide you through the basics of the platform. By the end of this section, you should understand what GoHighLevel is, why you should use it, and how to set up your account.
What is GoHighLevel?
GoHighLevel is an all-in-one platform for managing your business. It provides tools for collecting leads, clients, appointments, and more. With GoHighLevel, you can streamline your business processes, save time, and grow your business. The platform is designed to be user-friendly, so you don't need any technical skills to get started.
Why use GoHighLevel?
GoHighLevel provides a range of benefits for businesses of all sizes. Here are some reasons why you should consider using GoHighLevel:
Centralized management of your business processes
Automated workflows to save time and increase efficiency
Improved communication with clients and leads
Tracking and reporting to measure your business performance
Customizable features to fit your business needs
Setting up your GoHighLevel Account
Setting up your GoHighLevel account is a simple process. Here are the steps you need to follow:
Visit the GoHighLevel website and sign up for an account.
Choose your plan and payment method.
Set up your account by entering your business information and preferences.
Connect your email and phone number to communicate with your clients and leads.
Customize your dashboard and workflows to fit your business needs.
Once you've set up your account, you can explore the platform and use the tools to manage your business. GoHighLevel provides various resources to help you get started, including video tutorials, webinars, and a knowledge base. You can contact the GoHighLevel support team for help if you need any assistance.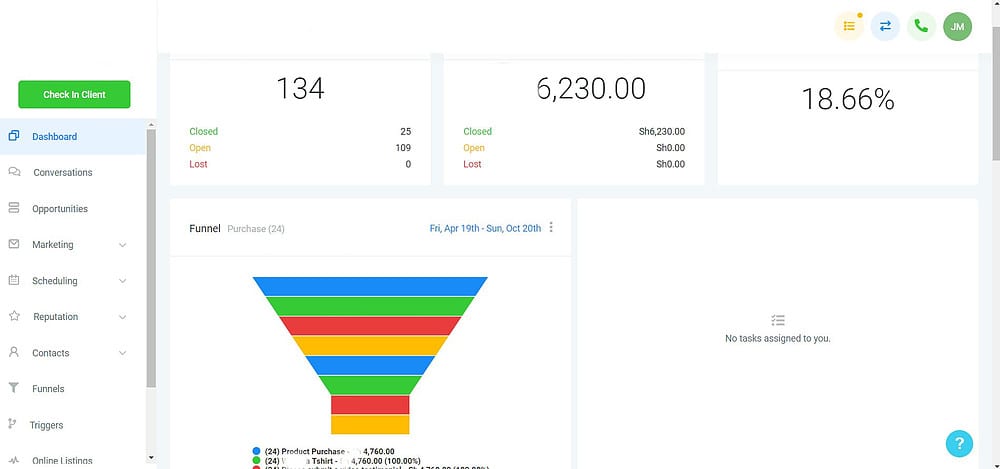 Features
GoHighLevel is a comprehensive platform that offers a wide range of features to help businesses manage their operations efficiently. The platform is designed to cater to the needs of digital marketing agencies, but it can also be helpful for companies in other industries. In this section, we will provide an overview of the features offered by GoHighLevel.
Overview of GoHighLevel Features
GoHighLevel offers a wide range of features that can be categorized into different sections. The platform provides tools for sales and CRM, marketing, service and support, and automation. Some of the key features of GoHighLevel include:
Sales funnel builder
Customer Relation Manager (CRM)
Website Builder
Email/SMS marketing automation
Voice drops and call tracking
Appointment booking
Course hosting and membership sites
Analytics
Reputation management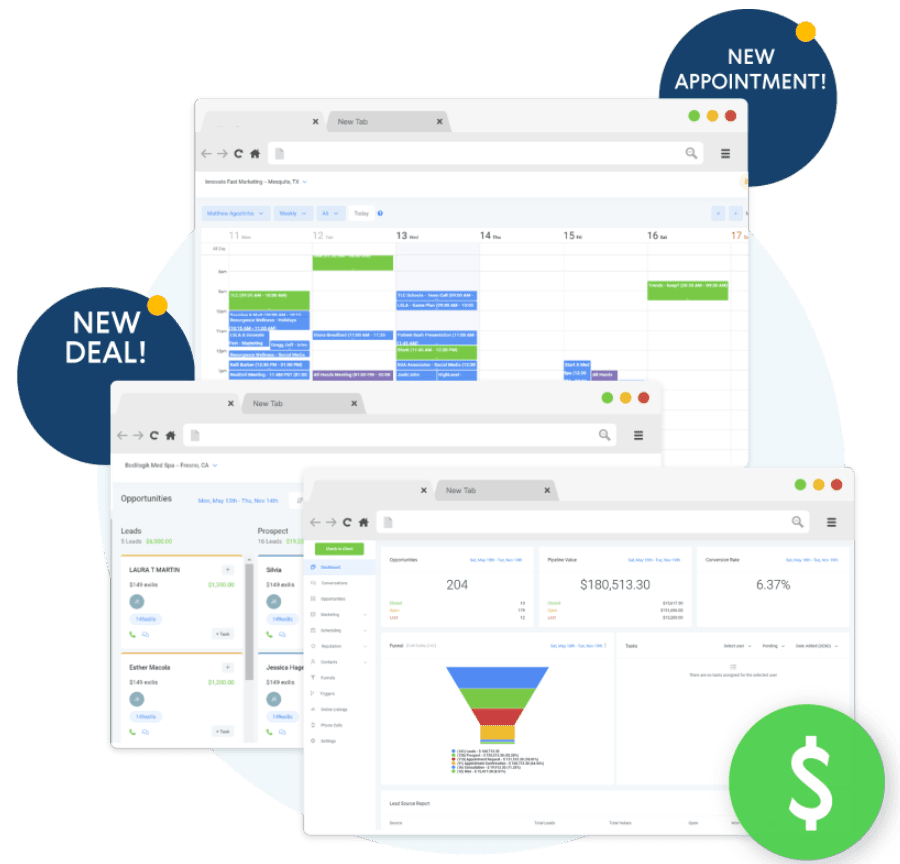 Sales and CRM Features
GoHighLevel provides a robust CRM system allowing businesses to manage customer relationships effectively. The platform offers features such as lead capture, lead scoring, lead nurturing, and lead management. The CRM system also provides tools for managing deals, tasks, and appointments. Businesses can use the CRM system to track their sales pipeline and monitor their progress toward achieving their sales targets.
Marketing Features
GoHighLevel provides a range of marketing features that can help businesses to attract and retain customers. The platform offers tools for email marketing, SMS marketing, and voice drops.
Companies can use these tools to create targeted marketing campaigns and reach out to their customers in a personalized way. The platform also provides a website builder that businesses can use to create professional-looking websites without the need for coding skills.
Service and Support Features
GoHighLevel provides tools for managing customer service and support. The platform offers ticket management, live chat, and knowledge base management features. These tools can help businesses provide timely and practical support to their customers, leading to increased customer satisfaction and loyalty.
Automation Features
GoHighLevel provides a range of automation features that can help businesses to streamline their operations and save time. The platform offers tools for workflow automation, pipeline management, and appointment scheduling. These tools can help businesses to automate repetitive tasks and focus on more important aspects of their operations.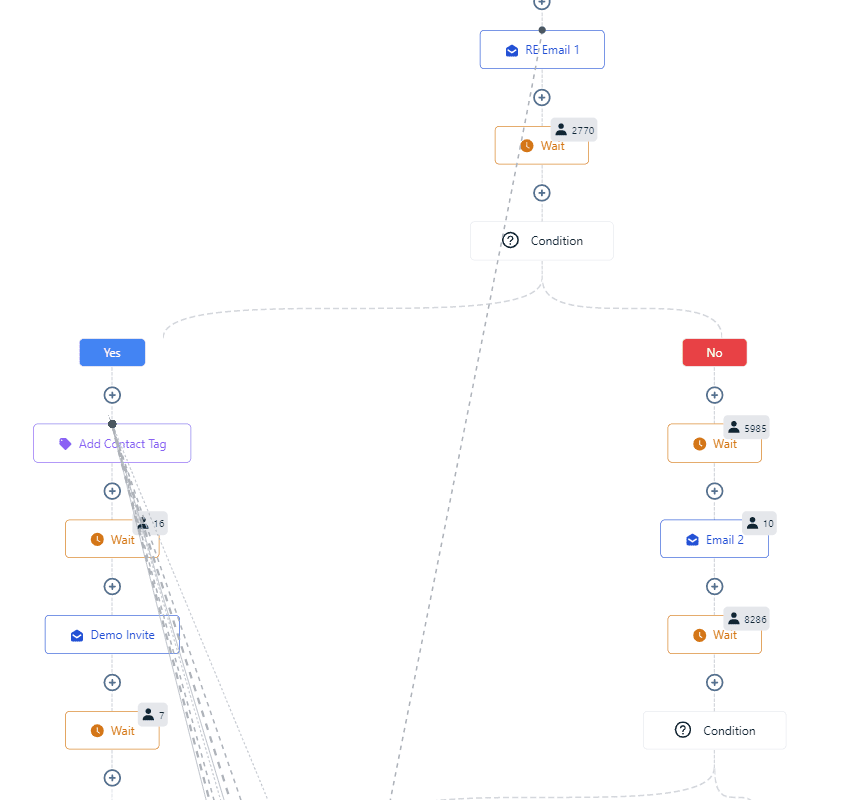 Best Practices
How to use GoHighLevel effectively
When using GoHighLevel, it is essential to clearly understand your business goals and how the platform can help you achieve them. Start by setting up your account and creating your first campaign.
Customize your settings and automate your processes as much as possible. Another important aspect of using GoHighLevel effectively is staying organized. Use the platform's built-in tools to manage your leads, appointments, and tasks. Keep track of your progress and regularly review your metrics to identify areas for improvement.
Tips and Tricks
To get the most out of GoHighLevel, consider implementing the following tips and tricks:
Use the platform's built-in templates to save time and streamline your processes.
Take advantage of the platform's integrations with other tools and services to enhance your workflows.
Regularly update your campaigns and messaging to keep them fresh and engaging.
Experiment with strategies and tactics to find what works best for your business.
Common Mistakes to Avoid
To avoid common pitfalls when using GoHighLevel, be sure to:
Avoid overcomplicating your campaigns and workflows. Keep things simple and focused on your goals.
Don't neglect your metrics. Regularly review your data to identify areas for improvement and adjust your strategies accordingly.
Don't rely too heavily on automation. While automation can be a powerful tool, balancing it with a personal touch is important to maintain a human connection with your leads and clients.
Avoid spamming your leads with irrelevant or excessive messaging. Keep your communication targeted and relevant to their needs and interests.
Integration
If you want to get the most out of GoHighLevel, you'll want to integrate it with other tools and services you use. Fortunately, GoHighLevel has several integration options available.
Integrating with other tools
GoHighLevel allows you to integrate with several popular tools and services. Here are just a few examples:
Zapier: Zapier lets you connect GoHighLevel with over 2,000 other apps, including Gmail, Slack, and Trello. This can help you automate tasks and streamline your workflow.
ActiveCampaign: If you use ActiveCampaign for email marketing, you can integrate it with GoHighLevel to keep your contacts in sync.
QuickBooks: GoHighLevel offers a QuickBooks integration that allows you to sync your invoices and payments with your QuickBooks account.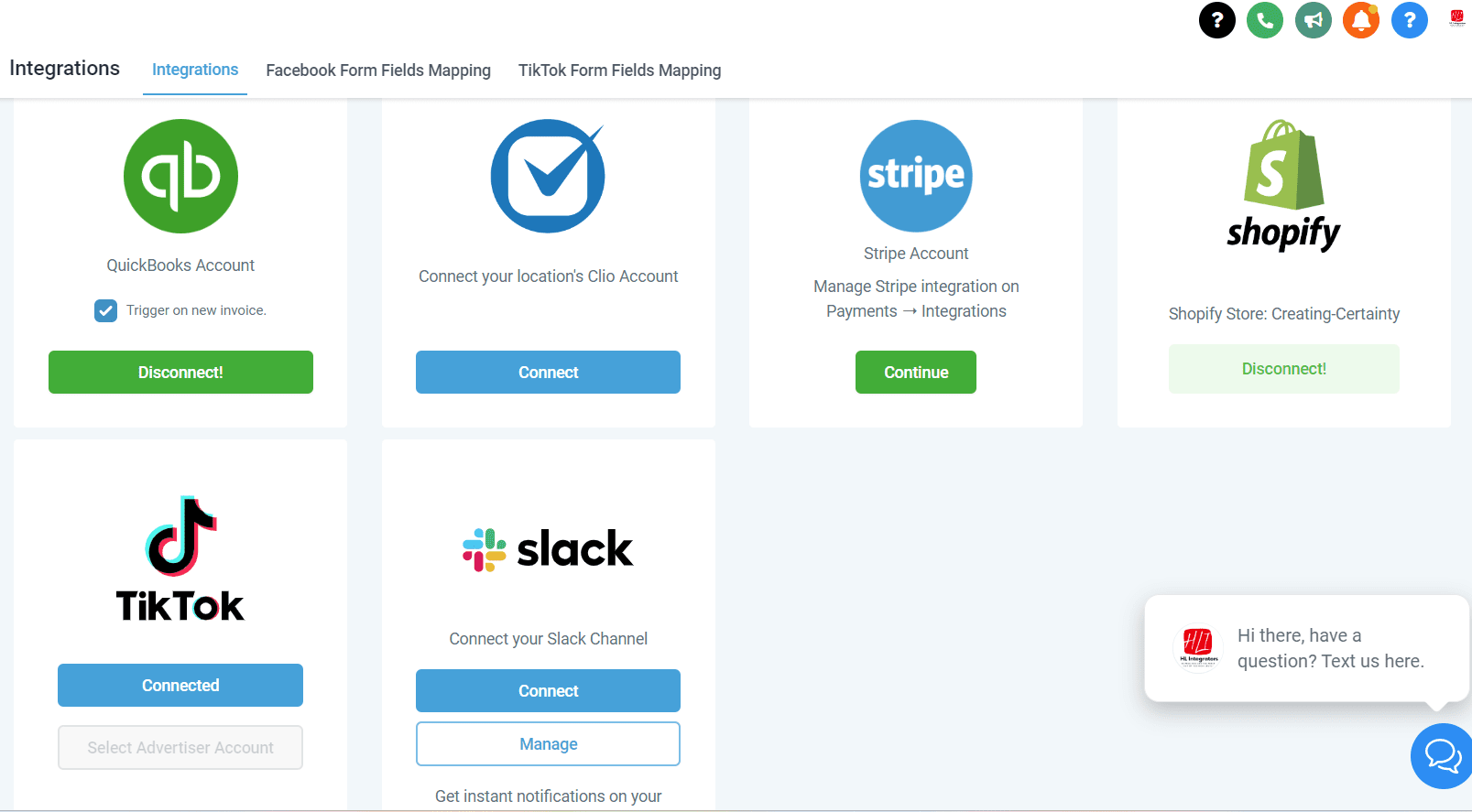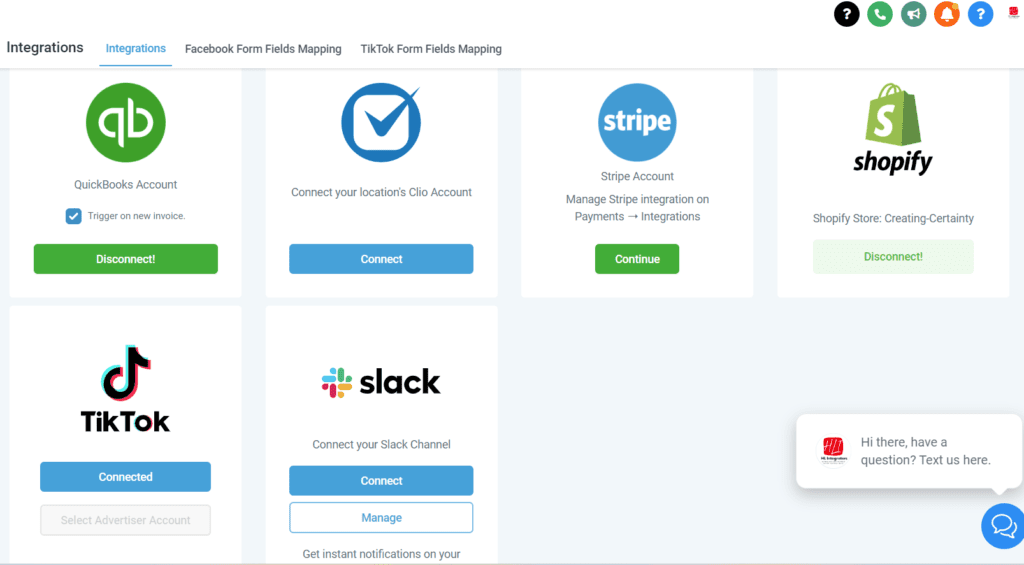 API Integrations
If you have a developer on your team, you can use GoHighLevel's API to integrate it with your custom applications. GoHighLevel's API allows you to perform various actions, including creating and updating contacts, sending messages, and more.
For more information on GoHighLevel's API, check out the GoHighLevel Developer Portal.
Pricing
Regarding pricing, GoHighLevel offers three main plans: Agency Starter, Unlimited/Freelancer, and Agency Pro. In addition, there is also a White Label Mobile App plan available for an additional cost. Each plan comes with different features and capabilities, so choosing the right one for your business needs is important.
GoHighLevel Pricing Plans
The Agency Starter plan is the most affordable option, priced at $97 monthly. This plan includes essential features such as CRM, SMS, email marketing, and appointment scheduling.
The Unlimited/Freelancer plan is priced at $297 per month and includes all the features of the Agency Starter plan, plus additional features such as lead capture pages and advanced reporting.
The Agency Pro plan is the most expensive option, priced at $497 monthly. This plan includes all the features of the Unlimited/Freelancer plan, plus additional features such as custom domains and advanced integrations.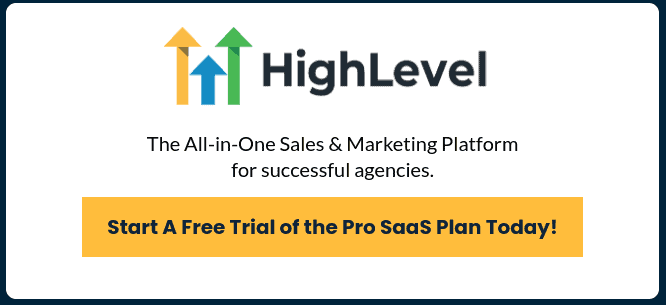 If you're looking for even more advanced features, the White Label Mobile App plan is available for an additional $497 per month on top of your regular plan. This plan allows you to create a branded mobile app for your clients, complete with your own logo and branding.
Choosing the right plan for your business
Choosing the right plan for your business can be challenging, but it's essential to consider your business needs and goals. If you're starting out and need essential features, the Agency Starter plan might be your best option. If you're a freelancer or agency looking to grow your business, the Unlimited/Freelancer plan might be a better fit. And if you're a more prominent agency with more advanced needs, the Agency Pro plan might be the best choice.
It's also important to consider the White Label Mobile App plan if you're looking to create a branded mobile app for your clients. This plan can help you stand out from the competition and add value to your clients.
Overall, GoHighLevel offers a range of pricing plans to fit different business needs and budgets. Take the time to evaluate your needs and choose the plan that best fits your business goals.
Conclusion
GoHighLevel is a comprehensive and powerful all-in-one platform that can help you streamline your marketing, sales, and customer service efforts. With its intuitive interface, robust feature set, and customizable workflows, you can create highly effective campaigns that generate leads, nurture prospects, and convert customers.
Whether you're a small business owner, a marketing agency, or a large enterprise, GoHighLevel can provide you with the tools and insights you need to succeed. By leveraging its advanced analytics, automation, and reporting capabilities, you can optimize your campaigns, track your ROI, and scale your operations.
Of course, like any platform, GoHighLevel has its pros and cons. While it offers many features and integrations, it may not be the best fit for every business or industry. For example, if you require highly specialized or customized workflows, you may need to supplement GoHighLevel with additional tools or software.
Ultimately, the best way to determine whether GoHighLevel is right for you is to try it out yourself. With its free trial and flexible pricing plans, you can test its features and functionality without committing to a long-term contract or investment. So why not try to see how it can help you grow your business?
Frequently Asked Questions
Is GoHighLevel good for ecommerce?
GoHighLevel provides valuable workflows and automation capabilities for e-commerce businesses. By utilizing automatic workflows for marketing campaigns, companies can effectively capture leads and distribute promotions, discounts, and offers alongside their e-commerce store.
What is GoHighLevel used for?
GoHighLevel is a marketing and customer relationship management solution offering various tools to manage and nurture customer journeys. It operates on a subscription basis with monthly or yearly fees and is designed for use by agencies and professionals.
What is the description of GoHighLevel?
HighLevel provides multiple communication options, including phone, voicemail, SMS/MMS, email, and Facebook Messenger for connecting with leads. The mobile application facilitates bidirectional communication on any device.
Is HighLevel a CRM?
HighLevel is a cloud-based CRM platform explicitly designed for marketing and advertising agencies, offering various features including payment processing, appointment booking, and landing page development.